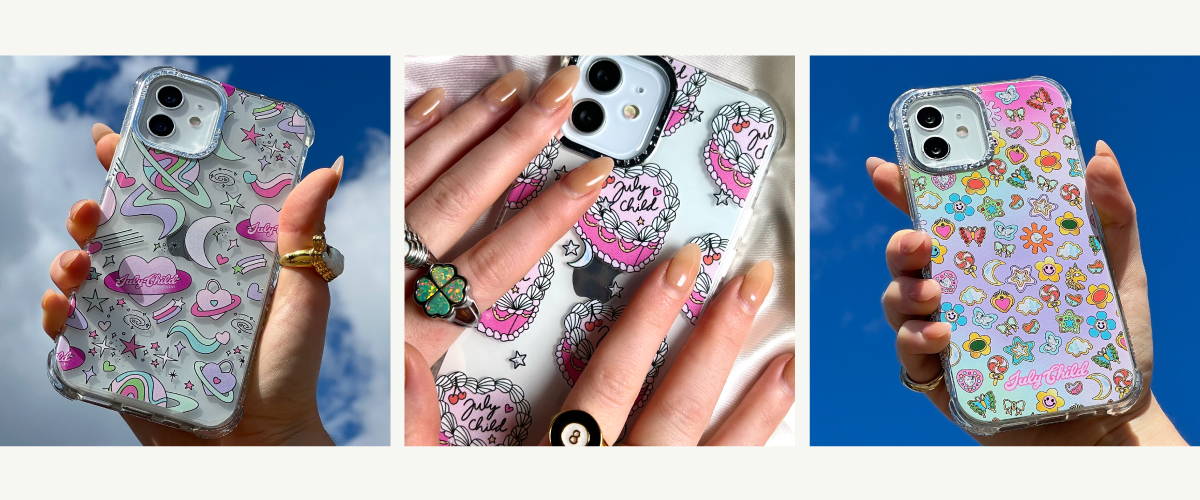 We've teamed up with the amazing jewellery brand July Child on a brand new phone case collaboration so we thought it only right we do a little Q&A! Read all the goss on July Child and see what they're all about below.
Where does the name July Child come from?
I am a July baby, born on the 19th and it's always been a big part of my energetic identity being a summer baby. I flourish in the sunshine and warmth.
If you could describe your brand in 3 words what would they be?
Nostalgic, funky and colourful
What does a day in the life look like for you?
It really varies depending on what we have on. My favourite kind of day is waking up, heading to a yoga class, working in my office and then ending with a meeting or a trip to our warehouse to check in on all my jewellery babies.
What's your favourite design from the collaboration?
The July Child cake is my absolute favourite. It's so cute and resembles those insane kitsch 80's prom cakes you see on Instagram.
What's been the most fun part of working with Skinnydip?
Bringing to life some amazing designs that my graphic designer Hannah has created. The team have made the process super easy for us to expand into phone cases and we hope to do more along the way.
What's the biggest piece of advice you'd give someone wanting to start their own business?
Do something you're super passionate about and make sure you're the hardest worker in the room.
What are you most excited for in the future?
Expanding July Child and our products. We have some exciting new designs in the making and I think 2023 could be our best year yet.