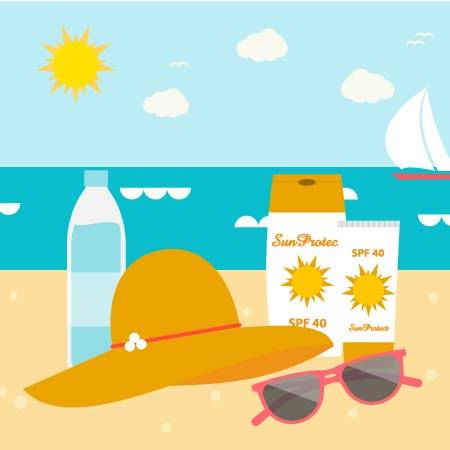 With the weather turning up and our sunny holidays finally getting closer, we chatted to the team at Cancer Research UK to get the low down on all your most commonly asked questions around the importance of sun safety, to make sure you stay protected all summer long! And for all you sun-worshippers out there, remember you can still rock your summer look whilst owning your natural skin tone!
What's the best way to take care of my skin in the sun?
Spending time in the shade and covering up with clothing are the best ways to protect your skin when the sun is strong. Choose a spot under a tree, a parasol or spend some time inside. When you're out and about, cover up with a t-shirt or loose fitting long sleeved shirt or dress, a wide brimmed hat and finish your perfect summer look with a pair of sunnies. You can also use sunscreen as an extra line of defense.
Can getting sunburnt increase the risk of getting skin cancer?
Yes, studies show that getting sunburnt just once every two years can triple, yes triple the risk of developing skin cancer. And it doesn't have to be bright red or peeling, if your skin has gone pink or red in the sun, it's still sunburnt. For people with darker skin, it may just feel irritated, tender or itchy. The sunburnt look is not one you should be going for – have the confidence to embrace your natural skin and look after yourself in the meantime!
What sunscreen should I use?
If you're using sunscreen with 15+ SPF and a 4 or 5 star rating, then you've got the right stuff! Researchers have found that as SPF increases, the additional UV that sunscreen absorbs tails off, offering less and less added protection. And research suggests that people using sunscreen with a higher SPF may stay out in the sun longer, increasing their risk of sun damage. Although no sunscreen is 100% effective, if it's applied properly and used in combination with covering up and seeking shade, SPF 15 with 4 or 5 stars should be enough to protect you, wherever you are in the world, so make sure you stay topped up!
How often should I apply sunscreen?
Regularly and lots of it! Most people are not putting nearly enough sunscreen on to get the right level of protection. Sunscreen can rub or sweat off throughout the day. Reapply regularly, especially if you're getting in and out of water, regardless of whether it says apply once, or if it's water-resistant. Make sure you wear sunscreen under your make-up, as the SPF in moisturizer or foundation isn't enough to give you adequate protection!
How can I take better care of my skin?
Cancer Research UK's Own Your Tone campaign wants people to have the confidence to embrace their natural skin tone – don't let the sun catch you out this summer!
It's a proven fact that 9 in 10 of melanoma cases could be prevented by staying safe in the sun. So here's some tips from Cancer Research UK to prevent and protect yourself on the daily.