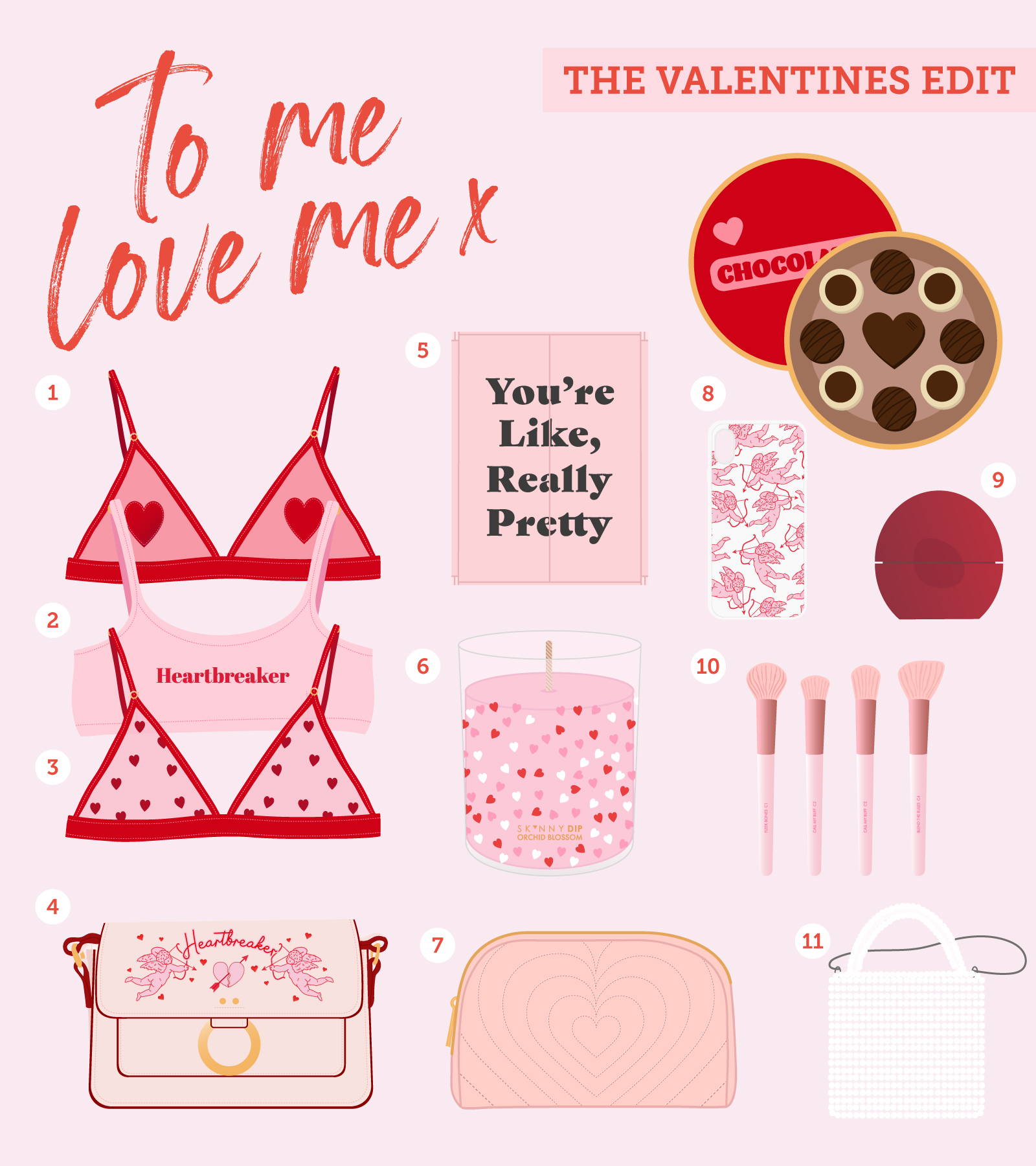 1. Lovers Mesh Underwear Set
Nothing screams Valentine's more than an extra saucy set of underwear, and our Lovers Mesh Set ticks all the right boxes. So whether you fancy wearing this on date night, or for lounging around in whilst shoveling in snacks and binging Bridget Jones, it's truly love at first sight.
2. Heartbreaker Underwear Set
Cool, comfortable and designed in this pretty pastel shade, our versatile Heartbreaker Set can be worn at home, to the shops or on your next big night out with minimal fuss required. Just slip it on and you're good to go for the day.
3. Ditsy Heart Underwear Set
The perfect style for wearing over the top of a classic white tee, rock the trend in our v-day inspired Ditsy Heart Bralette! Teaming up with the matching pants underneath obvs, just in case you've got a hot date to attend to in the evening.
4. Hearty Cutie Cross Body Bag
Covered in cute lil cherubs and big enough to fit your purse, phone and a spare pair of pants in in case you decide to spend the night out… our Hearty Cutie Bag is one of those accessories that'll serve you through all the seasons.
5. You're Like, Really Pretty Mirror
Practice that self-love with our Mean Girls inspired compact mirror. Perfect for packing in your weekend bag and reminding yourself just how damn pretty you are.
Planning a night in with a seriously saucy plate of carbs? Set the mood and give your pad that feng shui it deserves with our Heart Sprinkle Candle this valentines.
7. Heart Embroidery Makeup Bag
A little to me, love me gift to tuck all your favourite beauty essentials into. Give your accessories collection some love instead with this pretty pink Heart Embroidery Makeup Bag.
Quit waiting for cupid to turn up and instead shoot your shot for this glam glitter-covered Cute Cherub Case instead.
9. EOS Cherry Vanilla Lip Balm
If there's one thing that's essential for Valentines… it's seriously soft lips. So pop this little ball of cherry-vanilla goodness into your bag and glide it over your lips whenever they're feeling like they need a little top up.
10. Pink Marble Contour Kit Set
Another little treat to you for being so great. Create all your Valentines looks using our perfect pink marble makeup brushes. Don't forget to pack C2 in your bag to powder your nose mid-meal or night out!
11. Mini Penelope Tote Bag
A mini bag drizzled in pearls and ideal for taking out with you if you plan on celebrating Valentine's or Galentines out the house. This tiny tote has enough room to keep your cards, cash and a few cheeky mints in too!