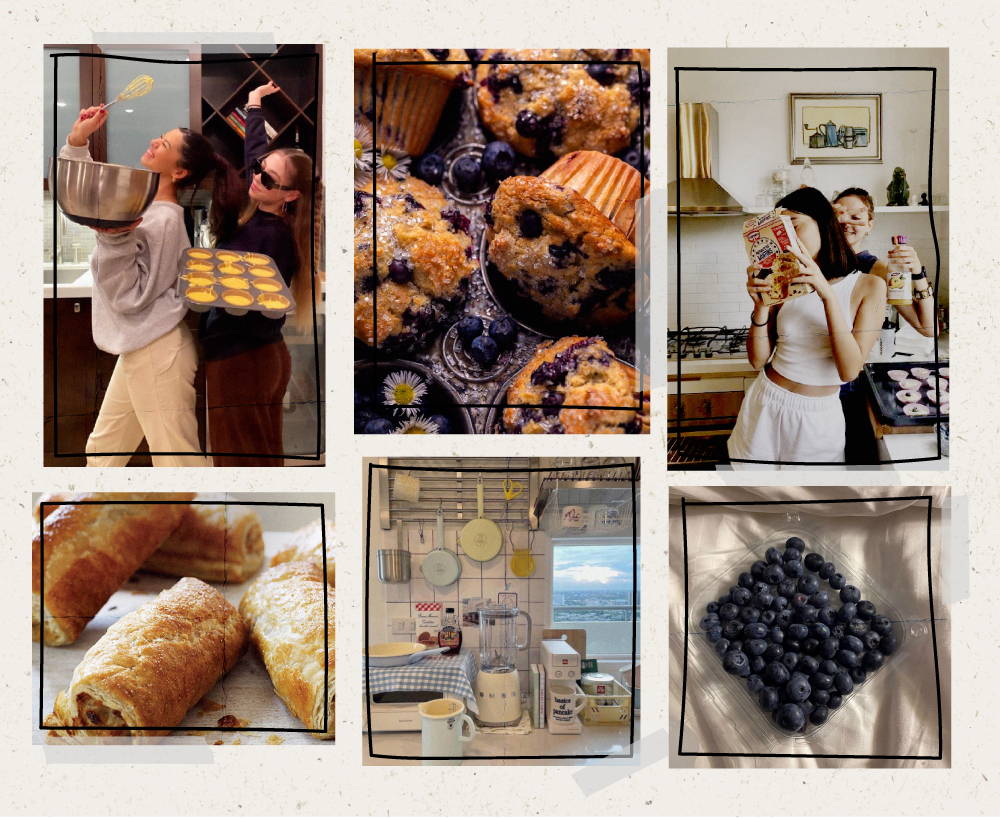 We really delighted our taste buds with some plant-based goodness at the beginning of the year thanks to Veganuary. Even though January has been and gone, don't forget that there's truly no time limit to eating vegan! With so many tasty vegan foods on the rise, we're eager to get in the kitchen and cook up something delish - that's why we've collected our favourite vegan recipes and want to share them with you, dear readers. From savoury to sweet, these four fab vegan dishes will take you straight to flavour town!
Who doesn't love a good sausage roll? We know, it's hard to find tasty vegan sausage rolls, but you won't have to look any further with this simple and easy recipe. Using only three ingredients and ready in just 30 minutes, you can create vegan sausage rolls to even rival Greggs'!
You will need:
Your favourite vegan sausages
Vegan puff pastry (most puff pastry is vegan but be sure to check the label!)
Non-dairy milk - soya or oat milk works perfectly!
Here's a step-by-step guide:
First and foremost, you'll want to remove the skins from your vegan sausages of choice. Next, form the plant-based meat into larger 'sausages' and cut in half lengthways.
Roll out the puff pastry and cut into quarters before placing each of the sausages on one slice of puff pastry.
Cut a lattice pattern in the puff pastry before folding it around your sausages. Seal the pastry around the edges with your fingers and trim it if necessary.
Glaze the puff pastry with your dairy milk before baking at 200 degrees (electric) or 180 degrees (fan) for 20 minutes or until golden.
Enjoy your delicious Greggs-style vegan sausage rolls!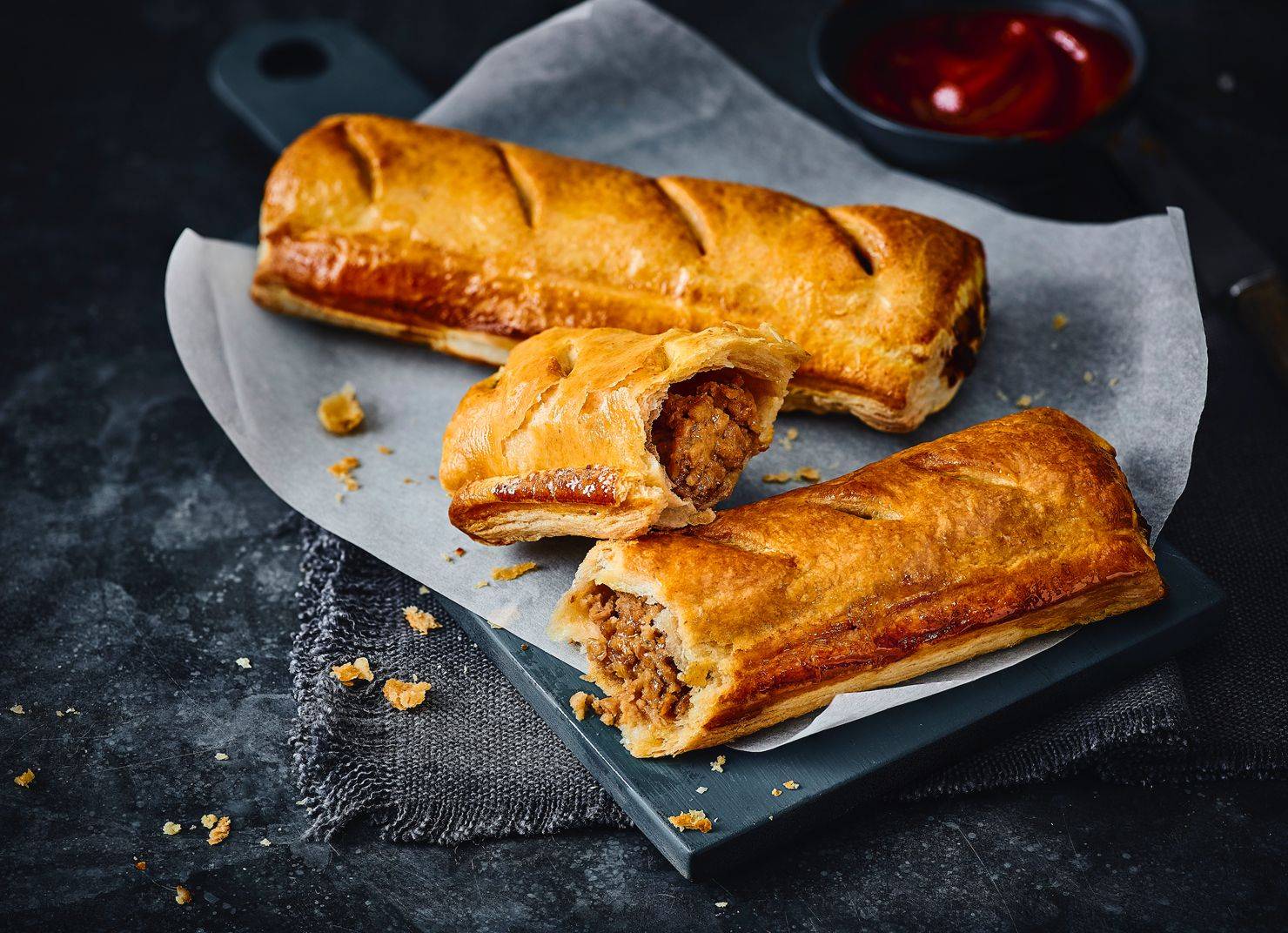 No one out there in the living, existing world dislikes chocolate cake, we're convinced. Eggs and milk are what usually make a chocolate cake so moist, so finding a great vegan chocolate cake recipe can be hard! Never fear, because we've whipped up the best vegan chocolate cake ever and we've got the recipe to share with you!
Ingredients for the cake:
275g plain flour
175g caster sugar
300ml soya or oat milk
25g cocoa powder
3 tbsp golden syrup
1 tsp bicarbonate of soda
1 tbsp lemon juice
Ingredients for the icing:
200g icing sugar
75g of a plant-based or non-dairy butter spread
25g cocoa powder
2 tbsp water
Here's a step-by-step guide:
Preheat the oven to 180 degrees (electric) or 160 degrees (fan).
Using a sieve, mix together the flour, cocoa powder, sugar and bicarbonate of soda. Gradually add the milk, lemon juice, and melted butter substitute and stir until smooth.
Grease two cake tins and divide the cake mixture between them both before baking in the preheated oven for 30-45 minutes. Use a toothpick to check the centre of the cake - if it comes out clean, the cake is ready!
Leave the cake inside the tins for 5 minutes before emptying them onto a wire rack. Use this time to create the yummy icing - simply mix together the ingredients mentioned above!
To avoid runny icing, wait until the cakes have completely cooled before this next step. Sandwich the two cake halves together with the icing and use the remaining icing to cover the top of the cake.
Decorate in any way you choose and serve!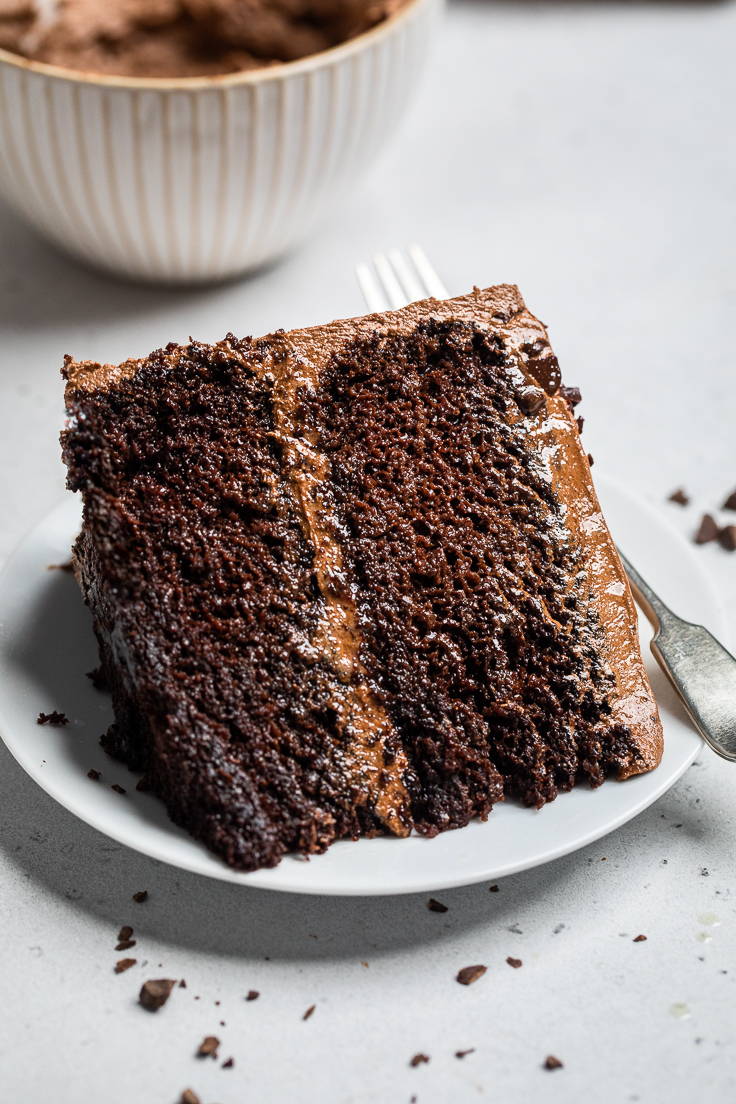 You may have had a vegan taco before, but have you had a vegan Crunchwrap Supreme?! A take on the classic Taco Bell item, this vegan Crunchwrap Supreme recipe makes for a tantalisingly tasty dinnertime!
You will need:
Large vegan-friendly tortillas (be sure to check the label!)
A meat-free vegan mince substitute
Tortilla chips
Taco seasoning powder (this can be easily picked up from any supermarket)
Vegan sour cream
1 cup diced tomatoes
1 cup diced lettuce
A handful of grated vegan cheese or a vegan cheese sauce
Here's a step-by-step guide:
Start by prepping your filling! Wash and cut your tomato and lettuce to your liking before cooking your mince substitute in a large pan. Add the seasoning sachet once it's cooked through.
Heat your tortillas in the microwave for 40 seconds to soften them before you begin to fill them. Scatter your meat-free mince, lettuce, vegan cheese, and tomatoes generously over the centre of the tortilla. Add a dollop of vegan sour cream before placing the tortilla chips on top.
Fold the tortilla around the edges of the filling until it forms a hexagon shape, and place in a preheated pan on medium heat. Cook each side for about a minute or until golden brown.
Dig in to your yummy vegan crunchwrap supreme!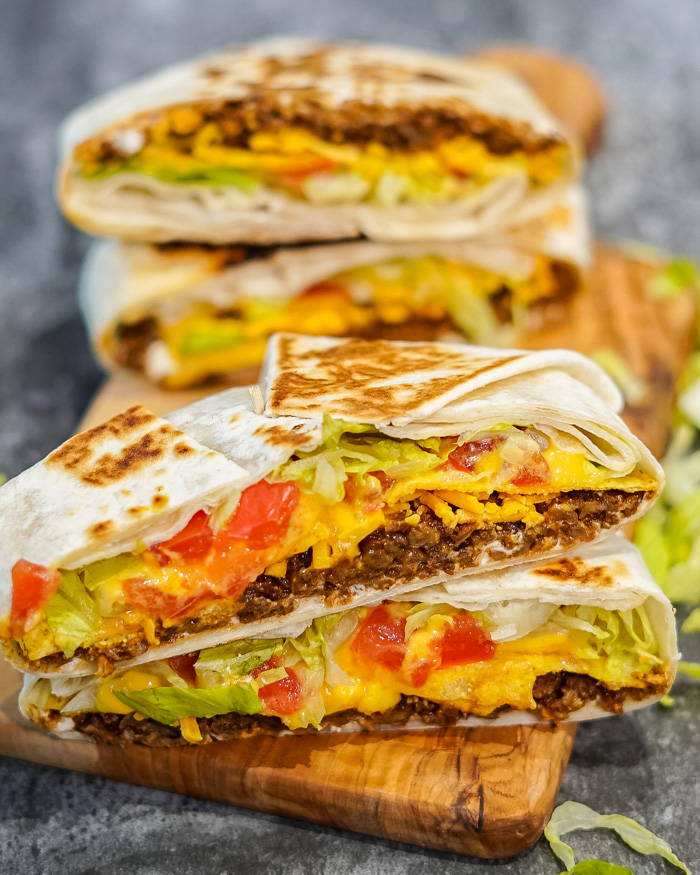 Blueberry muffins are a staple sweet treat and we're here to give you our yummiest vegan recipe! Moist and full of blueberry goodness, these muffins make a great snack or after-dinner treat.
You will need:
250g plain flour
150g caster sugar
240ml unsweetened non-dairy milk (soya works best for this recipe!)
80g plain, non-dairy yogurt
180g fresh blueberries
60ml sunflower oil
2 tsp baking powder
2 tsp vanilla extract
1 tsp lemon juice
½ tsp salt
A muffin baking tray
Paper muffin cases
Here's a step-by-step guide:
Preheat your oven to 220 degrees (electric) or 200 degrees (fan) and mix your flour, sugar, salt and baking powder together.
In a separate bowl, mix together the non-dairy milk, yogurt, oil, vanilla extract and lemon juice.
Once they're thoroughly mixed, combine the wet mixture with the dry mixture - use a whisk to get a silky-smooth texture! Add the blueberries and gently mix until they're scattered throughout.
Divide the muffin mixture between your paper cases, making sure they all have an even amount. Bake for 20 minutes or until a light golden brown - use a toothpick to check if they're cooked through before removing them.
Leave in the baking tray to cool for 5 minutes before removing the muffins.
Dig in to your fruity vegan muffins!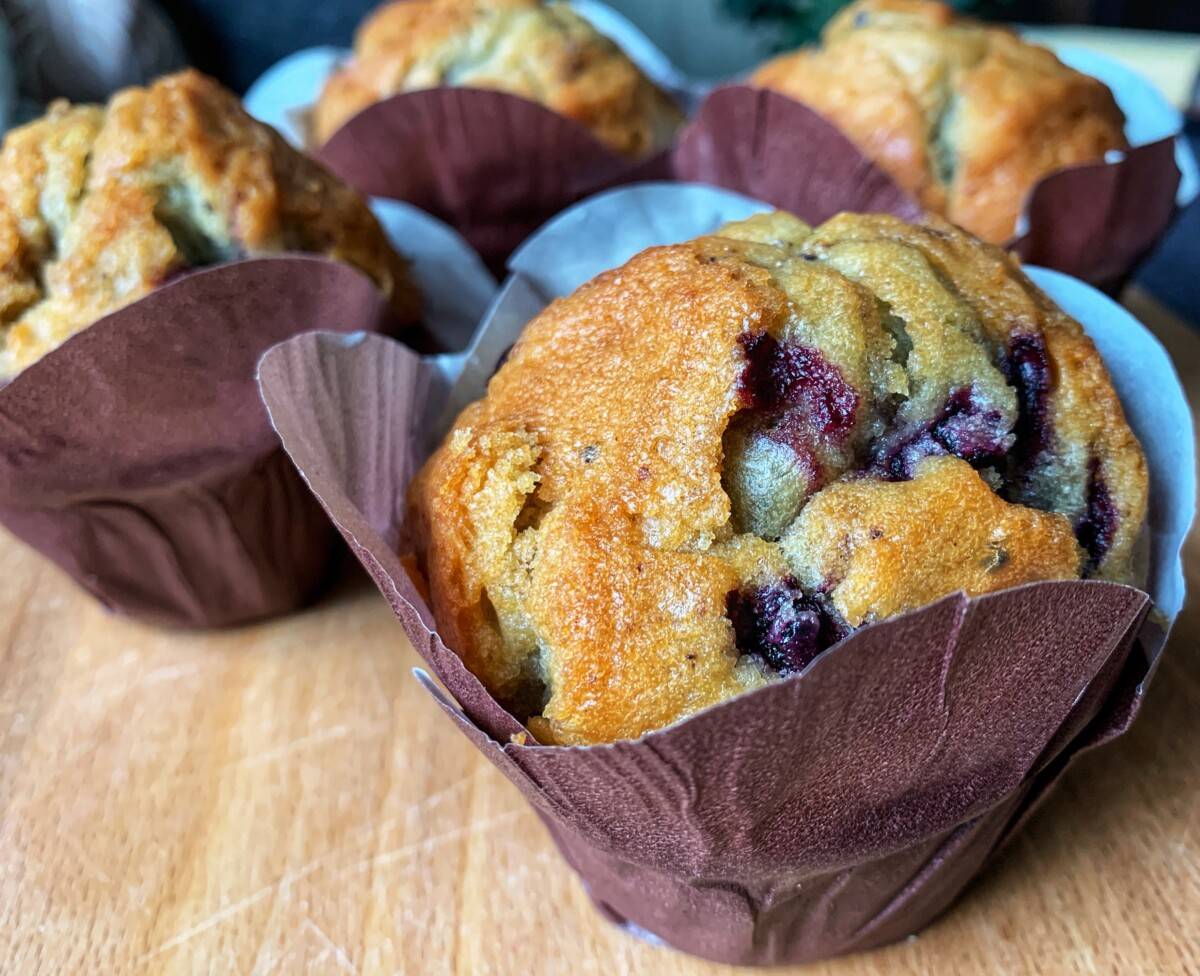 We hope you'll enjoy making these vegan dishes as much as we did!