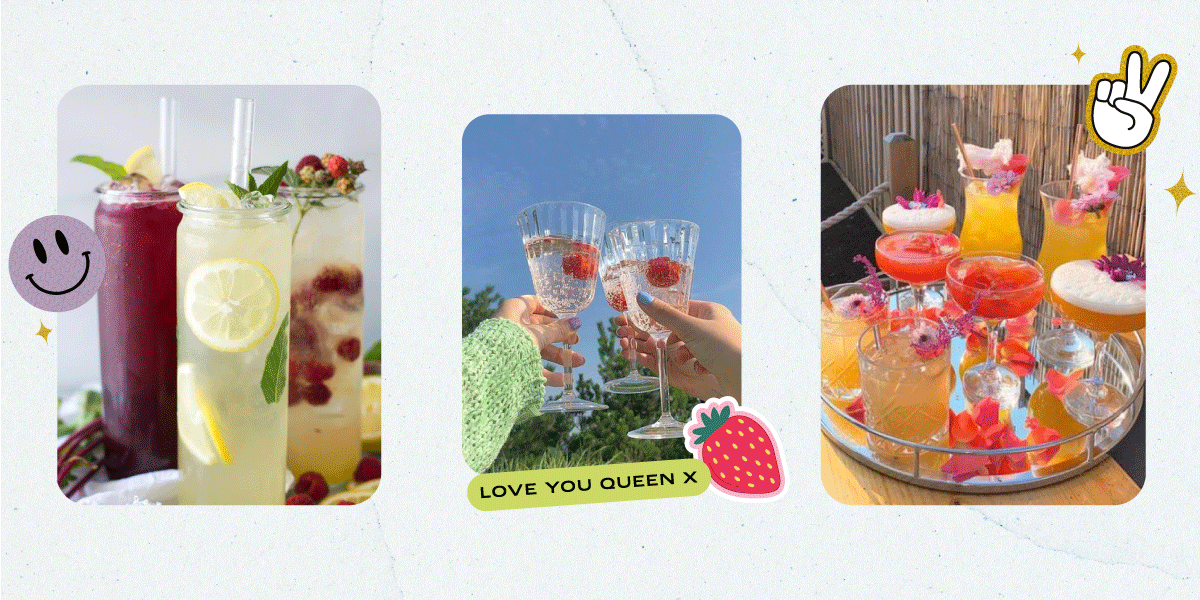 With the Platinum Jubilee on the horizon, we're ready to get out the bunting decorations and throw a bash just for good Queen Lizzie! We've already told you everything you need to know about hosting the best party this Jubilee Weekend, but what about a few bevvies to make the day extra special? Here we've put together a list of Jubilee-themed cocktails that even Lizzie would love, so stir up your faves and party like royalty!
500ml apple juice

250ml elderflower liqueur

250ml vodka

125ml lemon juice

125ml sparkling water

50g caster sugar

Mint and basil for garnish

Lemon slices for garnish
Combine the lemon juice and sugar in a bowl until the sugar dissolves. Next, add this mixture to your serving punch bowl along with the other liquid ingredients. FIll with ice, garnish and stir before serving!
Small handful of strawberries

Juice of 1 lime

1 tsp granulated sugar

Small handful of mint leaves

60ml white rum

Soda water
Mix the strawberries lime juice, sugar and mint leaves in a jug or large glass and be sure to crush the strawberries and mint as you stir. Pour into your glass of choice and add a handful of ice. Pour over the rum and top with soda water, garnish with mint and serve!
35ml pink gin

25ml rose vermouth

15ml Aperol

A wedge of grapefruit to garnish
In your chosen glass, mix the pink gin, vermouth and Aperol together with a small handful of ice. Stir until the outside of the glass feels cold. Garnish with the wedge of grapefruit and serve!
1 chamomile tea bag

100ml pink gin

100ml spiced rum

100ml elderflower cordial

100ml pink grapefruit juice
Pop your kettle on and brew the chamomile tea bag, letting it steep for 2-3 mins before removing the bag. Let it cool down for 5 minutes before you pour the tea into a jug with the rum, pink gin, elderflower cordial and juice. Add ice, stir, and serve!
50ml dark rum

50ml white rum

50ml sugar syrup

1 passion fruit

1 orange, juiced

1 lemon, juiced

2 tsp grenadine
Fill a cocktail shaker with ice then add the dark and white rum. Next, add the orange, lemon juice, sugar syrup and grenadine to the shaker and scoop the insides from the fresh passion fruit before adding it to the mixture. Now it's time to shake! Shake until the outside of the cocktail shaker feels icy cold. Fill your chosen glasses with ice and then strain the drink into the glasses before serving. You can garnish your creations with an orange wedge or cherries for that extra chic touch!