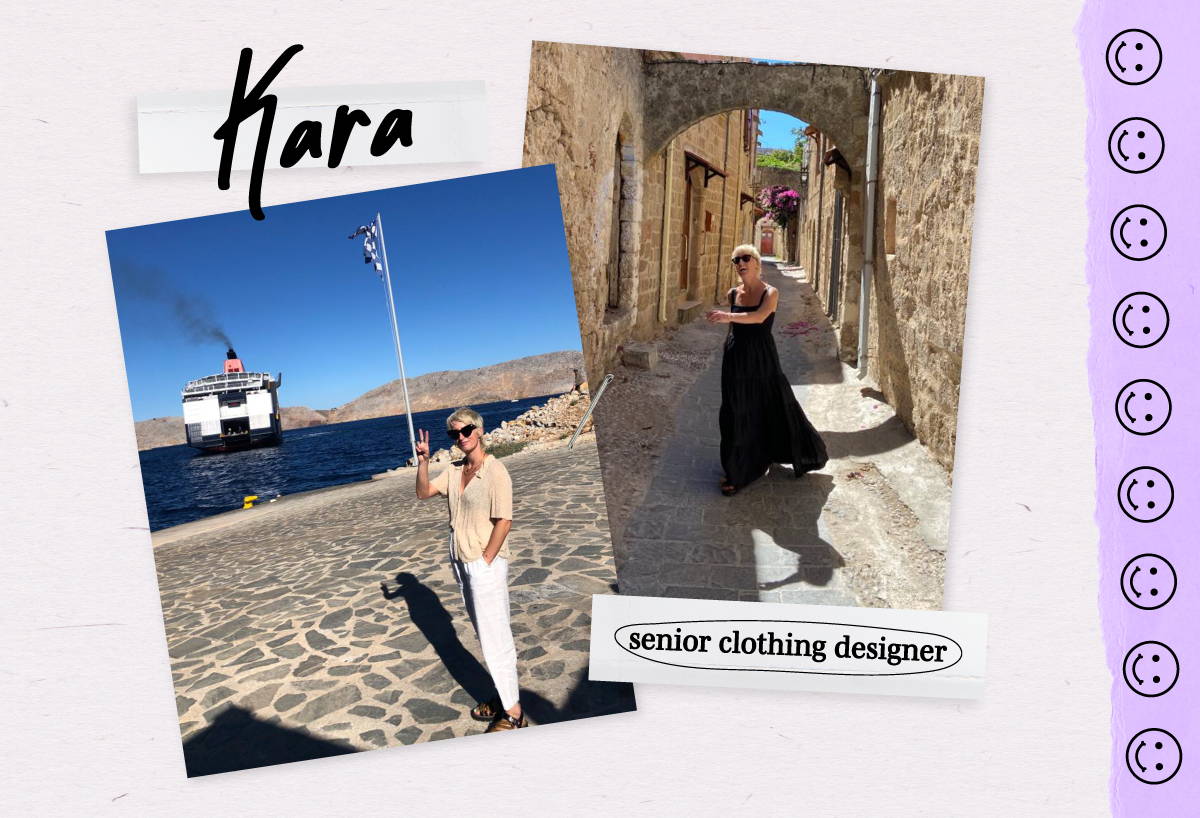 What's your role at Skinnydip?
I am a Senior Clothing Designer
Did you go to uni? If yes what and where did you study?
Yes, I did a Bachelor of Fashion Design at the Melbourne Fashion Institute and then a Bachelor Creative Industries, language and linguists & secondary education in Queensland university, both in Australia!
What made you want to go into design?
I've always loved how clothes and the art of dressing up makes you feel. I wanted to be able to create those moments that can make someone smile and feel great about themselves ready to take on the day. It's a way of sharing your creativity, making something real and tangible everyday that hopefully is loved and treasured by our customers!
Having the opportunity to also travel and study throughout Italy/Europe in my early twenties, I knew fashion was for me. Also, Priscilla Queen of the Desert was a huge influence, the top of the bus moment still gets me!
 
How did you get to work at Skinnydip?
I was frustrated with working in fast fashion, and really wanted to find a brand that was more mindful and aligned more to my values. Magically the universe heard my affirmation, I saw the role, applied, interviewed and the rest is history.

What's your favourite part of working at Skinnydip?
Easy, getting tattoos at work was the highlight gin o'clock, bickie trolley, the new book club! List is endless! I would say day job it's creating and conceptualising with the team our future trends/developing the collections.

Seeing the end result on the creative shoots is always a nice moment, being able to be involved across the complete creative cycle is a great learning opportunity too. I'm able to be involved, share ideas and work with other teams to drive the SD vision is a vibe.
 
Describe a day in the life of Senior Clothing Designer?
-coffee before anything
-cinny bun from Gail's
-emails/team catch ups/priorities
-more coffee
-team lols while we chat about our weekends and slogspo (slogan inspo)
-sketching / researching / developing into our SS23 and also looking further ahead into our AW23 trends
-more team lols
-surprise meetings
-lunch and a walk for fresh air with the team
-arvo coffee hit
-bicky trolley
-trade/brand/supplier /meetings
-fittings
-reworking/tweaking sketches or moodboards / resourcing fabrics etc
-action plans for the next day/ emails/priorities
-end of day lols
-Ciao Ciao

What are your current Skinnydip obsessions?
-vintage cat tee
-glitter lens cover
-heart beaded strap
-holographic / personalised cases
Too many to choose

What are your top tips for someone wanting to become a Senior Clothing Designer?  
-work hard and be nice to people (thanks Anthony Burrill)
-being wrong and not getting the ideas right the first time is a good thing, persevere, be patient or and don't take feedback to heart