The results are in! We've tallied up our bestselling phone cases throughout the year of 2019 to help make up your mind what style you need in your life next. Drum roll please!
Redesigned in our new shock absorbent style, our Peachy Shock Case has been flying off the shelves week in, week out. So whether you love a good peach or you want something that shouts about how great your ass is, you can't go wrong with our Peachy Shock Case.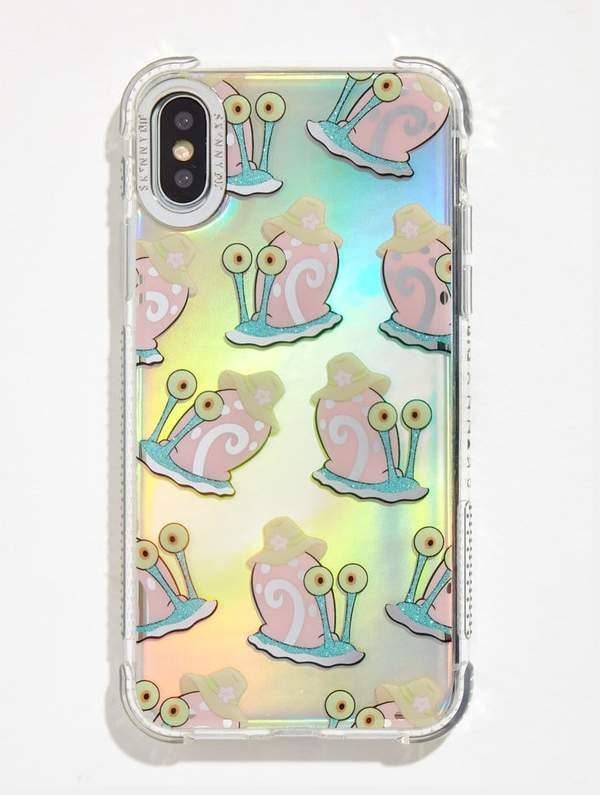 One of the most loved characters from hit TV series SpongeBob SquarePants, our holographic Gary Shock Case has been a smash hit since we dropped it on site at the end of October.
Now it's no secret that our customers love glitter, and we packed as much glitter as possible into our Silver Flakes Case! Perfect for party, this bendy beauty is loved by all, and is guaranteed to spark some compliments.
Inspired by the everyone's favourite animal who live down under, this dreamy two-tone Blue Whale Shock Case has been a high hitter since we we launched him in July, plus he'll protect your phone from daily damage too!
6. Banana Palm Dual Protective Case
A case that'll transport you straight to the tropics on a first class flight, our sellout dual protective case is designed to fight against knocks, bumps and scratches effortlessly, making it easy to keep your most prized possession safe and sound wherever you go.
A firm favourite from our last Disney drop, it doesn't get much cuter than our Thumper Shock Case! With it's pink holographic sheen and protective properties, this case is perfect for all the Disney lovers out there.
Noticing a pattern here? You lot go wild for anything with a peachy print on! So we've given our famous Peachy Case a gorgeous glossy finish to mix things up a bit.
Let us tell you, the pictures do not do this dreamy Pearl Stone Case justice! The perfect case to have on the back of your phone all year round, this pretty pearl style has been a firm phone case favourite since it launched.
Last but not least, this gold Glitter Case from our exclusive Amelia Liana range has been trending week in week out for months! So if you're into glitter, this case is a match made in sparkly heaven.