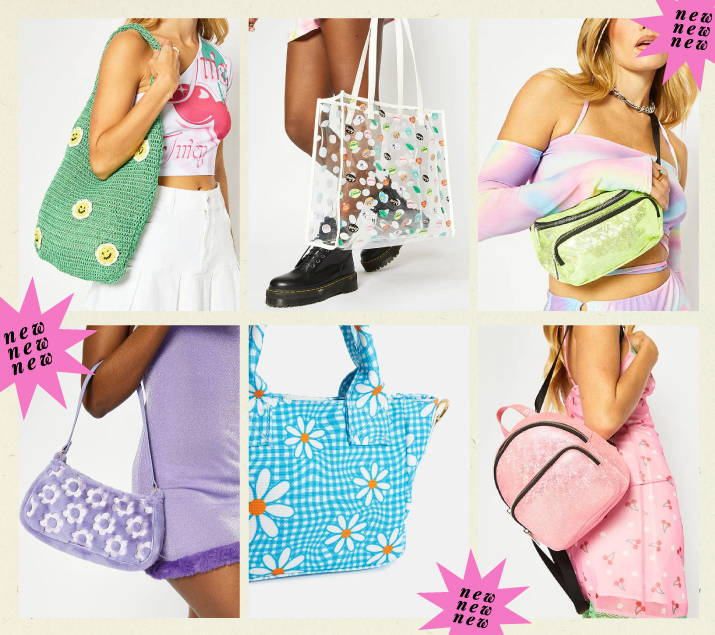 Suns out? Bags out! Now is the perfect time to flex those adorable, chic, and colourful bags! Whether you need something spacious to carry your beach kit in or want something small to sling over your shoulder during a shopping spree, we've got bags with your name on them!
Take a look at the summer bags we're currently obsessed with!
This bag screams "take me with you to the beach"! Designed with a fun, smiley flower vibe in the trending crochet style, this bag will perfectly complement any summer look.
Jackson Lime Glitz Bum Bag
Has there ever been a bag more perfect for a festival?! Stand out from the crowd and keep your essentials close with this sparkly and cute bum bag! It's the ultimate hands-free accessory.
Gianna Lilac Daisy Fluff Shoulder Bag
Feeling a little fun and flirty? This fluffy shoulder bag will add a playful touch to any daytime or evening look this summer! We're lilac lovers through and through, so this cute shoulder bag makes a welcome addition to our wardrobe.
Daisy Swirl Check Mini Tote
Vibrant blue with a sweet gingham checked pattern, this little tote bag will make the cutest addition to your summer daytime look! Take this mini bag with you on your next picnic in the park and ooze flowery, sunshine vibes.
Sonya Pink Glitz Mini Backpack
Cute and mini in size, this backpack is made for any pink lover! The glittery design makes it perfect for a day at a festival, too, so pop in your suncream, shades, and away you go!
This bag is practical, sweet and perfect for carrying around your beach essentials! The wide design of this tote means you'll be able to fit everything from your towel and bikini to your summer drinks and snacks, and the transparent exterior makes it easy to wipe clean - sand begone!