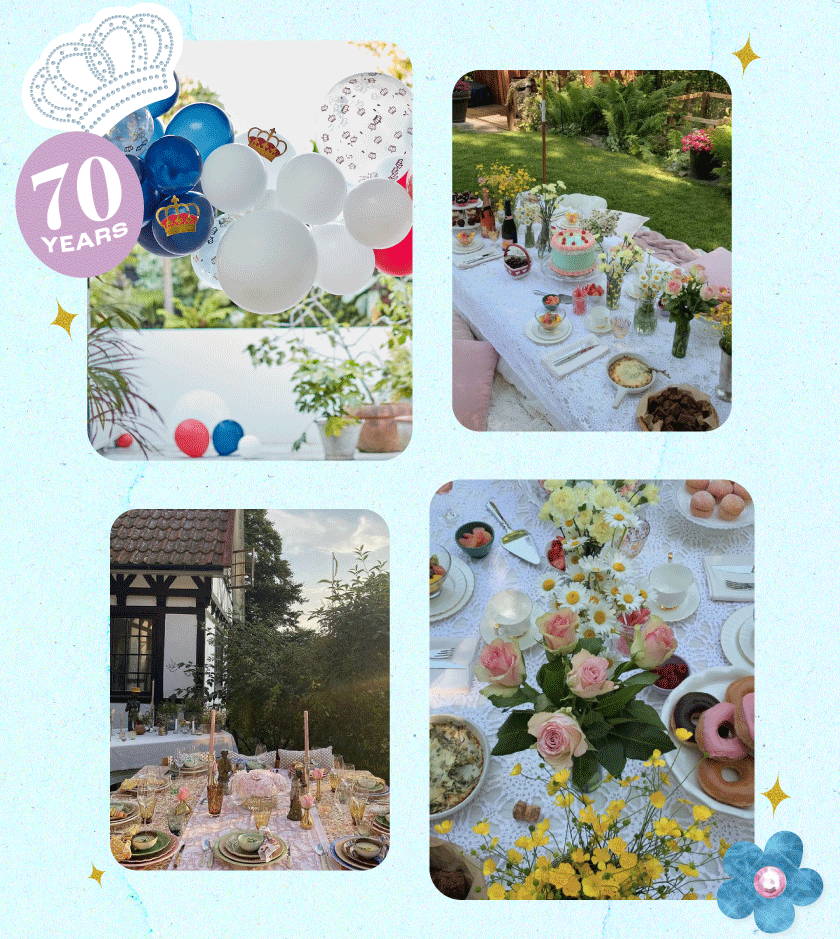 June is rapidly approaching which means it's almost time for the Queen's Platinum Jubilee! The celebration weekend marks Queen Elizabeth's 70th year on the throne - good job Lizzie! It's also a time full of festivities, including parades around London and street parties across the country.
Thinking of hosting your own royal bash? We're here with the perfect guide to hosting your Jubilee weekend party!
Nothing says a Jubilee party quite like bunting! Creating your own bunting decorations can be a fun task in itself, simply use different colour card in red, white, and blue and cut them into triangles. Decorate with glitter and Union Jack designs before threading through a string - and voila, they're ready to pop around your garden! Not art and craftsy? Pick up some ready-made bunting decorations online!
Balloons are made for parties so grab some in our national colours and decorate around your house to bring a pop of colour to your party. Still got those fairy lights in the loft? Now is the perfect time to break them out! Twinkling lights can add the perfect ambience for an evening party, so decorate your garden full of them to make your Jubilee bash truly fit for royalty.
When the sun is out, we Brits love a good old-fashioned BBQ! Don't waste this opportunity to get the grill locked and loaded with sausages and burger patties - or meat-free alternatives! If you're looking for something more traditional, tea and cake could be the way to go. Get nan to bring her most fancy tea set for the occasion and serve guests scones with jam and cream for the ultimate royal experience. The sweet treats shouldn't stop there! Whether you're buying Jubilee themed biscuits or want to make your own cupcakes fit for a queen, you can't go wrong with something sugary!
No matter the age of your guests, party games never go amiss! For something cheap and easy, search online for a quiz about Queen Lizzie and compete with your friends and family on the questions - whoever gets the most points wins a prize!
For a truly royal experience, how about a game of croquet? Set the game up in the garden and live your Bridgerton fantasy as you take turns hitting the balls through the hoops. Croquet sets can easily be bought online, so don't worry if you don't have your own!
For smaller gatherings, a classic board game is a simple and fun way to entertain your guests - we'd choose Monopoly but be careful not to tip the board over in anger!
What's a party without music? Keep the good vibes going with your own carefully curated playlist. You can simply pop on your fave songs to have the whole crowd grooving, or you can go for a theme! Below we've outlined a few royalty-themed and women empowerment songs for inspo - feel free to add them to your Jubilee party playlist!
ABBA - Dancing Queen
Lorde - Royals
Ne-Yo - Queen
Ariana Grande - God is a woman
Whitney Houston - Queen of the Night
Doja Cat - Woman
Kelly Clarkson - Stronger (What Doesn't Kill You)
Coldplay (feat Rihanna) - Princess of China