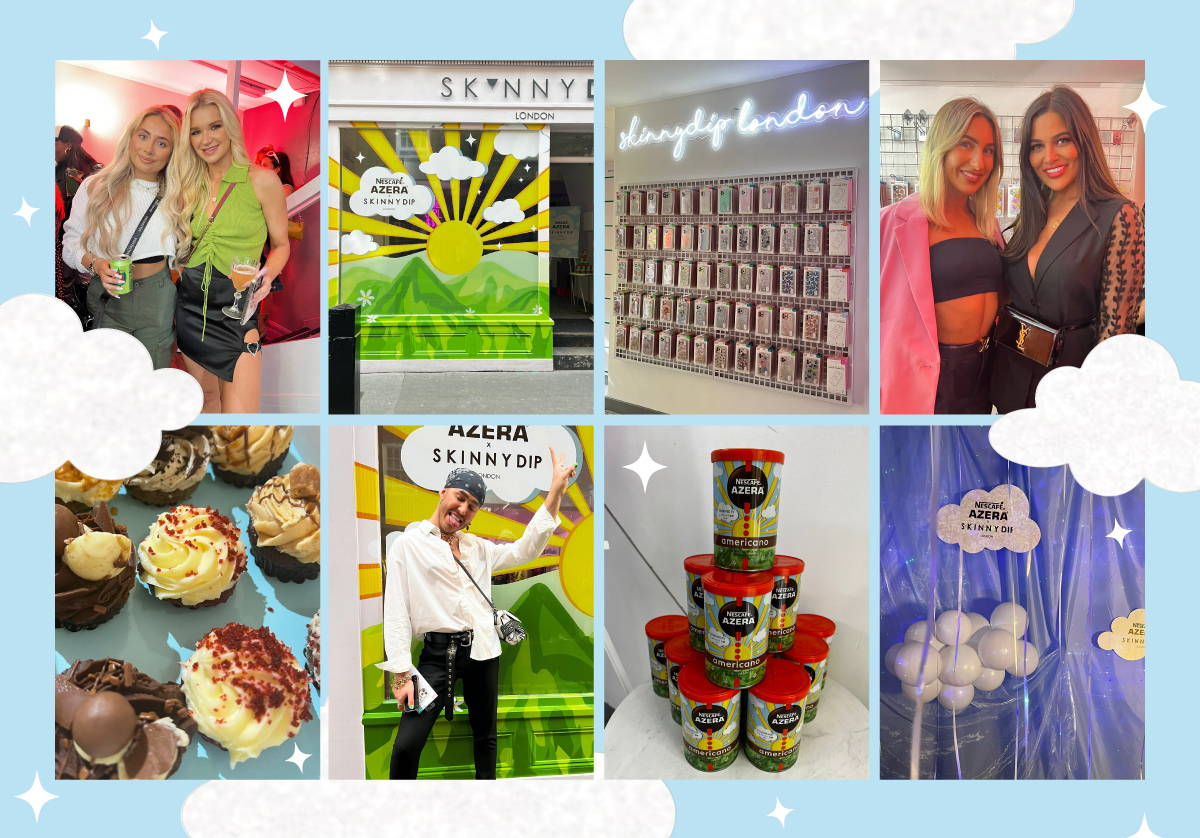 Here at Skinnydip, we've been super excited to work with Nescafé Azera on not one, but TWO fresh new coffee tin designs of their famous instant coffee. The limited edition tins of Americano and Americano Decaff are perfect for a morning pick-me-up, aesthetically pleasing iced coffee, or even a boozy espresso martini and we can't get enough!  
To celebrate this fab new collab, we created a brew-ti-ful night to remember over in our London Neal Street store located in Covent Garden. We started the evening off with tunes and tasty cocktails - guests could choose between margaritas, passionfruit martinis and, of course, the all-important espresso martini made with Azera Coffee! There were good vibes all around as eventgoers chatted and danced to the music while munching on some delicious cupcakes, courtesy of Lola's Cupcakes!
One of the most important parts of any event is getting some pics for the gram, ofc, and we were there to make sure every partygoer had pics for their feed! The store was decorated with bundles of balloons shaped like clouds, streamers and lots of glitter, making it the perfect backdrop for an impromptu photo shoot.  
The store also featured our brand new 'drop zone'. Here, guests could drop their phones from two metres to prove that our Skinnydip Shock Cases are ultra-protective - if their phone broke, they were promised a new one (that's how confident we are). As expected, everyone's phone came out unscathed thanks to their super cute and protective Skinnydip phone case. The shock factor was defo a bit of fun for the evening!
What's a Skinnydip event without some kickass entertainment? We were lucky enough to have amazingly talented tattoo artist @milllanah at our event - she created the cutest flash sheet, featuring coffee beans, sunshine, and flower smileys. Guests had the chance to get a tattoo done by Millie herself, and we're obsessed with how they came out. A few besties got matching tattoos as well - we love that!
As well as flash tattoos, we also had free tarot readings for partygoers! All night long, the incredible @shaessanctuary told us our future as we gawked in glee. Whether it was your first time getting a tarot reading or you were a tarot card champion, Shae's readings were heartwarming and defo made the night something special to remember!
As the event drew to a close, eventgoers were given a special Skinnydip goodie bag filled with phone cases, makeup bags and more. Before saying goodbye, each guest was also given one of the new Azera Coffee tins to take home with them too. Everyone came together and made the night such an amazing blend, so we want to say a big thank you!
You can find the all-new limited edition tins of Nescafé Azera coffee featuring the new, Skinnydip design in your local supermarket now.