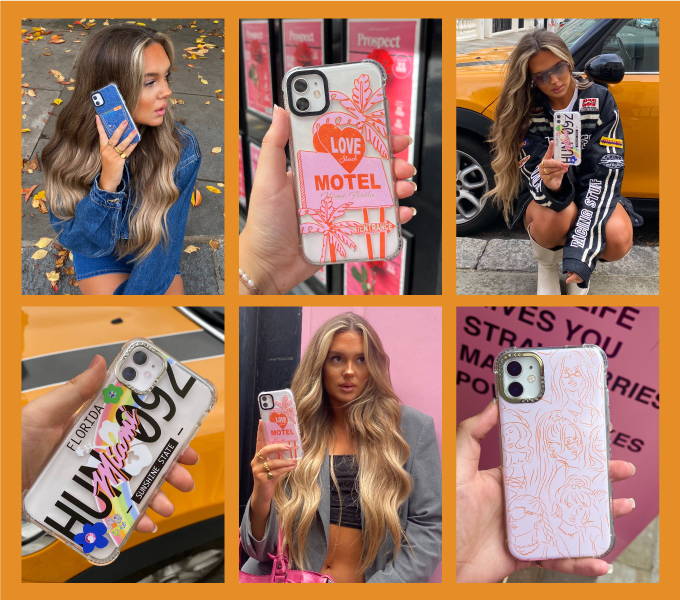 We've teamed up with blogger and influencer Bella Stovey on a new limited edition range of phone cases! Giving us all the Y2K vibes, all four of these cute cases fit perfectly to her aesthetic and quite frankly, we're obsessed. So check out what went down when we caught up with Bella to get the goss on the new range below.
If you could describe your collection in 3 words what would they be?
-retro
-fun
-vibrant

What does a day in the life look like for you?
I would say I generally have 2 types of days!
1: at home editing, planning & filming! Lots of chai lattes, Gilmore girls & cuddling my 2 cats.
2: shoot days in london! Walking around the city with friends lugging a suitcase filled with
clothes & accessories! The coffee & croissant breaks just about make up for carrying everything
& changing in toilets 😂

What's a fun fact about you that you think would surprise people?
I am a professional napper. I can nap ANYWHERE & fall asleep at the drop of a hat. On planes
I'll fall asleep before take off & wake up as the planes landing!
It's a blessing & a curse 😂

What's your favourite design from the collection and why?
It's hard as I absolutely love all of them & love how they all look together! But I think it would
have to be the denim pocket. I love the Y2K vibe is gives & matches perfectly with my denim
outfits & bags!

What's on your bucket list?
To visit Japan! It's always been a dream of mine - I am obsessed with the culture, food &
fashion.

What's been your favourite part of working with us?
It's so hard to choose! But probably the fact that skinny dip feels like one big family! They are
the loveliest group to work with & I felt like I was thoroughly involved every step of the way ❤️
What's the best piece of advice you've ever been given?
'Don't rush the timing of your life' or 'everything happens for a reason - I live by this!

Tell us a bit about how the design process worked? What was key for you with regards to the
final designs?
I started out by creating moodboards for the overall theme of the cases! I focused on text, colour
& aesthetic. From this I then looked more deeply at my interests, fashion choices & some of my
own artwork to make sure the cases really reflected my personality & style. I had meetings with
the team in order to ensure we were on the same page throughout the process. From the mood
boards the final 4 ideas were drawn up which then involved lots of back & forth with colour
palettes, fonts & layouts!
It was vital to me that the final designs were authentic to my own aesthetic & style, yet would still
appeal to a wide audience!

And lastly, and very importantly. What's your death row meal?
That's a tough one! It's got to either be seafood pasta or sush