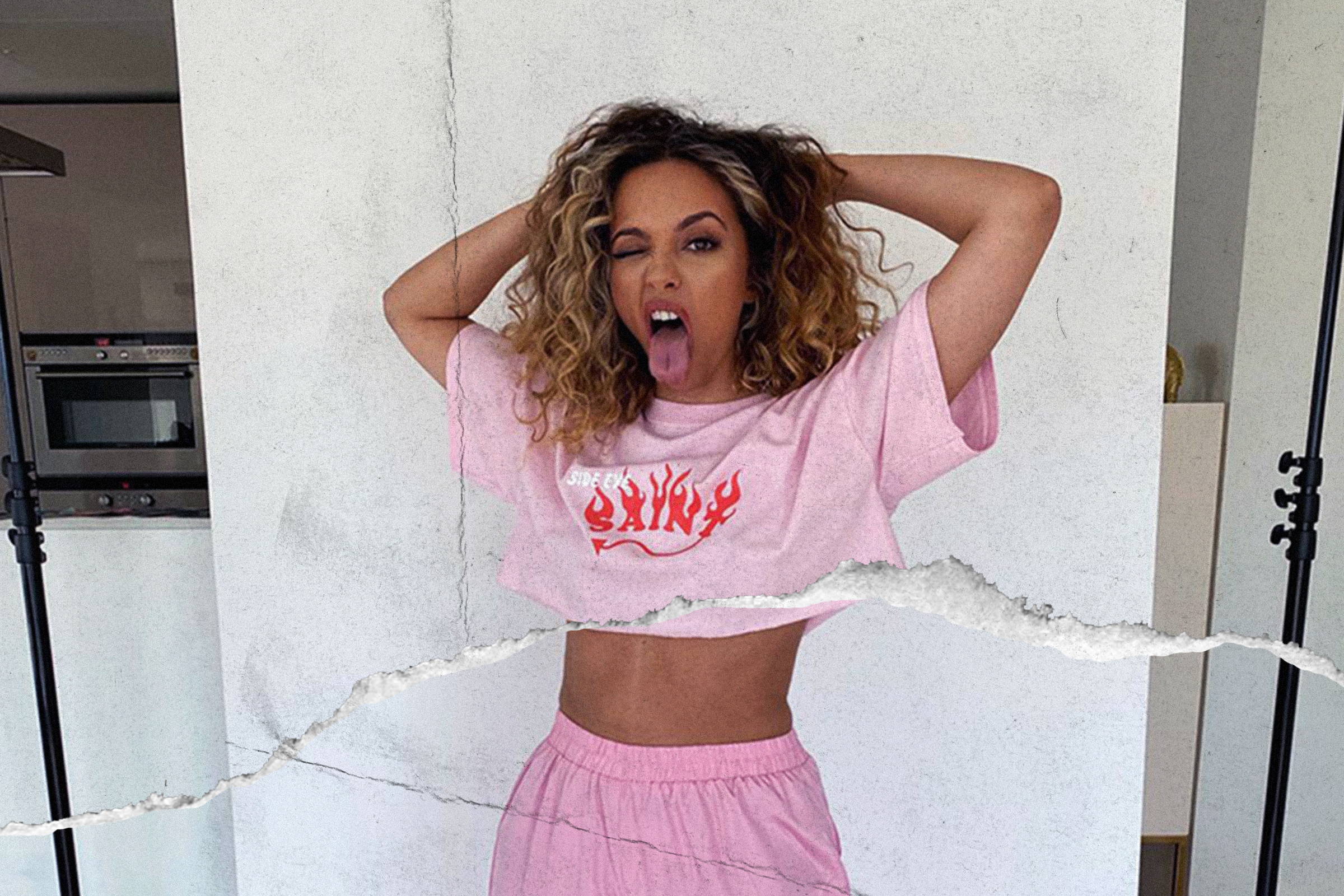 Firstly, what a wild time to launch a new collection! How have you found lockdown and what have you been up to?
I know! I've tried to be as positive as possible during lockdown, but like everyone I've had good and bad days! Usually I'm rarely home for longer than a week because I travel with the girls so much, so it's been weird being stuck in the same place for such a long time. I've tried to use this time to be more creative and do/finish things that I never usually have time for but are good for me. Reading, writing, cooking (attempting to!), art. I'm grateful to have been stuck indoors with two friends - we've really helped each other along the way.
How different has it been shooting at home compared to the usual hustle and bustle of photo shoots?
It was actually pretty chilled and quite fun. Zack is one of the Little Mix stylists as well as my mate so he's been a godsend. We put our creative/stylist/director/photographer heads on and just had a laugh. It almost makes it even more special that the shoot was done so authentically. We all worked so hard on this collaboration and I'm proud of myself and the Skinnydip team for still finding a way to go ahead with the project.
What piece of the collection are you most excited to see people wearing/using?
I live in hoodies, so I'm looking forward to seeing people rocking those! I love that people will be wearing clothes with slogans on that I say all the time ha! I've been using the initial phone case samples for a while now and have been asked so many times where they're from. It's pretty major to be able to say 'actually, it's mine! And you can get them from Skinnydip!'
What's been your favourite thing about working with Skinnydip?
I love that anytime I've been in the offices there's a real family atmosphere and positive energy. And they've literally just done whatever I've asked for 😂 it really has been a collaborative effort and they've honestly been a dream to work with. It also means a lot to me personally that as a brand they are very vocal in using their platform to raise awareness and help with social issues.
You're at home with your favourite pair of slippers on, a brew in hand and Netflix on the tv, what piece of the collection are you wearing?
Hmmm probably the trash hoodie and joggers because that's very much who I am 😂 looking scruffy indoors, eating crap, watching trash tv and having a good old gossip with Holly and Zack. Any of the comfy stuff to be fair.
Aside from your collection, what trend are you loving right now?
Bum bags will always be the vibe for me. I'm all for practical fashion. I love that people seem to be embracing their natural beauty a lot more in lockdown. That should be trend that never goes!
and lastly, what are you going to miss most when life goes back to normal again?
I'll miss having the time to be creative in ways I can't be while I'm working. And being able to communicate with friends and family for hours on end. But this has definitely taught me that I can always be doing more in normal life to find a better balance with all that.
This or that
Peanut butter, crunchy or smooth?
I'm allergic to peanuts so NONE!
Hair up or hair down?
Down
Heels or flats?
Flats
Lipstick or lip gloss?
Lipstick (lipgloss does not serve us well doing hairography onstage)
Natural makeup or full glam?
Both
You're at the cinema, popcorn or nachos?
Both hahaha
Party til' dawn or home and in bed by midnight?
Partyyyyyyyy
Lockdown life or normal life?
Neither. I'm creating a new normal for myself!