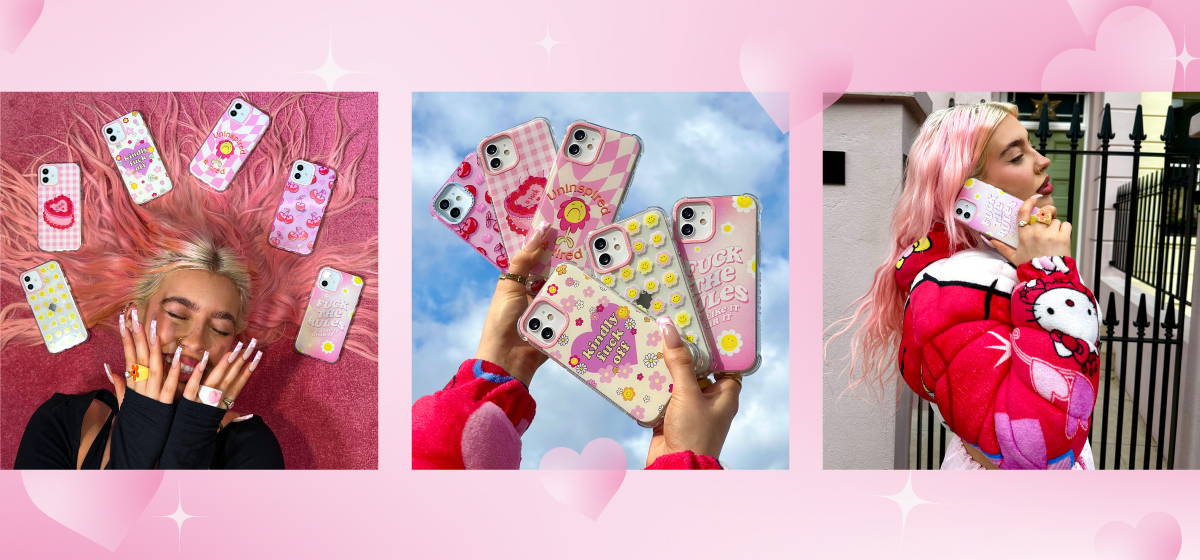 Hey Jenna! Introduce yourself 😊
My name is Jenna, i'm 23 years old, i do content creation full time and i LOVE IT 💖
If you could describe your collection in 3 words what would they be?
Pretty, vulgar, pink

What does a day in the life look like for you?
A big old mess of random jobs, absolutely no structure hahahaha, anything ranging from editing to filming content to just lying in bed with my dog, being self employed is good until you have no one to shout at you to get up and out of bed
What's a fun fact about you that you think would surprise people?
Pink is not my favourite colour
What's your favourite design from the collection and why?
The 'fuck the rules if you like it wear it' i love the colours, the font and the message so much! people worry so much about wearing certain things, if you like it just bloody wear it, you'll look great. 💖
What's on your bucket list?
NOT skydiving. A collection with skinnydip ✅ and to go to orangutan jungle school in borneo and meet all of the orange men :)
What's been your favourite part of working with us?
Skinnydip is one of my favourite brands always, since i was a teenager 🥹 so this was SO beyond exciting, it's been a dream! everyone who works there is so lovely also, it's such a fun brand with an amazing team 💖
What's the best piece of advice you've ever been given?
I can't actually recall anyone giving me any decent advice haha but what i will say is not to care what people think because no one actually cares what you do, everyone's too busy in their own little bubble so just do whatever makes you happy (within reason haha)
Tell us a bit about how the design process worked? What was key for you with regards to the final designs?
SO, first i searched all over the internet for inspo, i love finding inspiration on pinterest! once i had a general idea of what i wanted and fonts i liked, i mocked up some ideas using picsart on my phone, made different variations of each design then sketched out the final with any tweaks i wanted into a little sketchbook. i brought them into skinnydip and then the design team worked their magic on them and we created the cutest cases 🥺💖
And lastly, and very importantly. What's your death row meal?
People are always really unimpressed with this answer but it's a gotta be a bacon butty, good and northern, RIP x