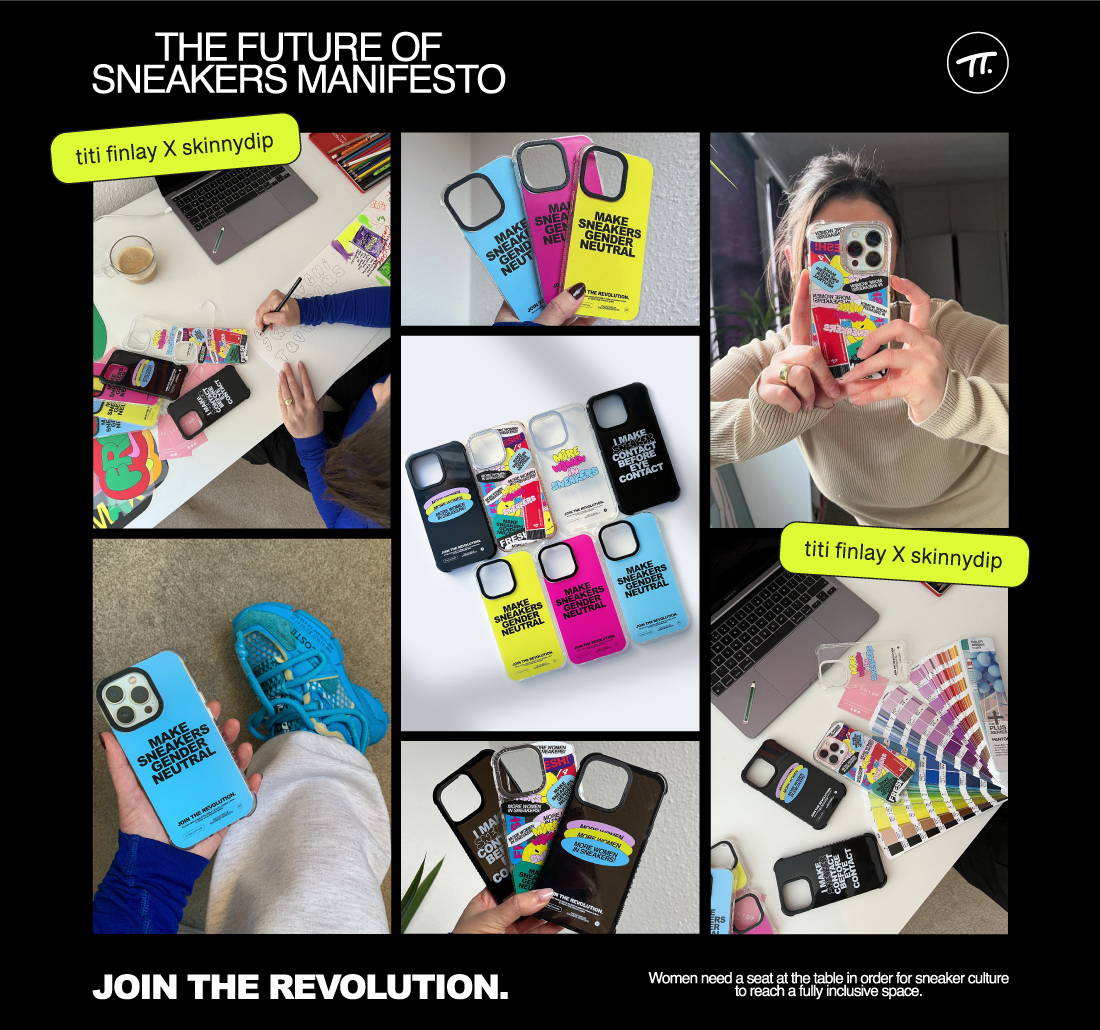 Hey Titi! Introduce yourself 😊
Hi! I'm an artist/creative from Scotland, living in London. I have spent my career working in the sneaker industry and have become known for my bold graphics that champion inclusivity in sneakers, as well as the limited edition Air Max 90 I designed with Nike.
If you could describe your collection in 3 words what would they be?
Women in sneakers!
What does a day in the life look like for you?
I wake up early and walk my dog, then spend most days in my home studio working on various projects, or sometimes at meetings. I recently left a 9-5 to work for myself, so no two days are the same when it comes to what I'm working on these days. Sometimes I'm art directing on set, or consulting brands on creative strategy, and other days I'm at home designing or drawing up ideas for special projects. I'm a homebody so evenings are usually spent painting or relaxing!
What's a fun fact about you that you think would surprise people?
Maybe more of an embarrassing fact – but people always think I have really cool taste in music. When in reality (although I do love 90s hip hop) I mostly listen to 70s dad rock and songs from broadway musicals!
What's your favourite design from the collection and why?
The crazy layered sticker design – if you look at it next to my studio space or any of my previous work, I feel like it really emulates me and my style.
What's on your bucket list?
Visit Japan and Mexico, design another sneaker, exhibit my artwork at a major gallery, do Route 66, see every musical on stage, the list goes on!
What's been your favourite part of working with us?
The total creative freedom. It's been really fun to apply my design work to something outside of sneakers and apparel and do something completely new. I also just loved the whole Skinnydip team – you guys are so friendly and fun to work with!
What's the best piece of advice you've ever been given?
I'll give you 3 for the price of one:
Under promise and over deliver
Don't half-ass stuff, hone your craft and be the best you can be
No matter how successful you become, stay humble, stay polite, stay grounded!
Tell us a bit about how the design process worked? What was key for you with regards to the final designs?
I knew I wanted this collection to be for my fellow female sneakerheads, and to feel like an extension of my previous work – the bold graphics and statements about sneaker culture have become my calling card – but I wanted this collab to feel unique in its own way. I started researching and gathering references I loved, and eventually decided to hand draw and develop my own lettering and base the collection around that. I love bold/neon colours, so of course I applied that to the phone cases – it's fun, bright and playful!
And lastly, and very importantly. What's your death row meal?
I get asked this a lot, and have a very specific answer: A dirty martini, followed by oysters with Champagne, steak tartare with chips, then creme brûlée to finish.